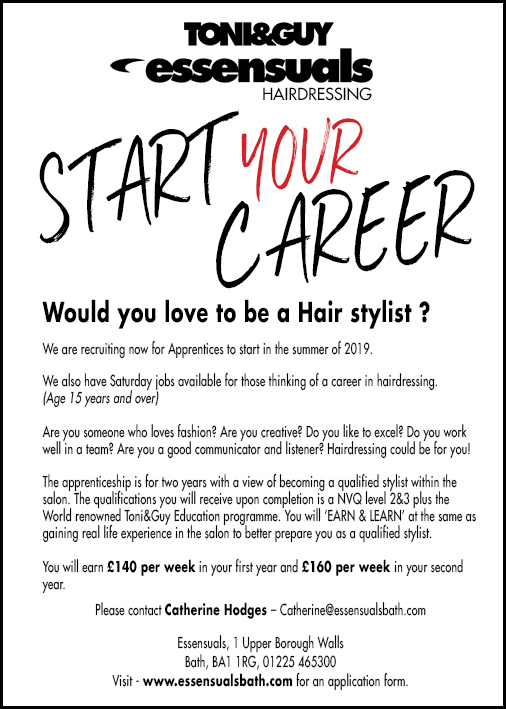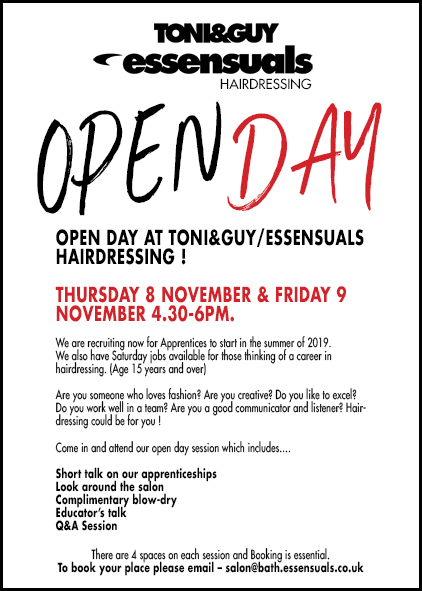 Would you like to be a model?
We need models of any age, hair length, type and style.
Don't worry, we do what you want! You are the client and we are training to deliver the best service and haircuts.You will also receive styling advice on your hair and all other services we offer.
Our Apprentices train with us for 2-3 years before becoming qualified stylists.
During this time they practice their technique on models in order gain experience and confidence working with a range of Hair textures, lengths, Colours and clients.
Depending on the level of the Apprentice, depends on the models required however we do usually have 4-5 Trainees at any one time from beginning levels.
1st year apprentices-Blowdries , Long hair Cuts , Semi and permanent Colour, Fashion Colours.
Second year apprentices -Mid-Length and shorter styles, Men's Hair..Highlights, Balayage
Third year-  Advance and non Classic Hair cuts and Advance Colour and perming.
These sessions are fully supervised on specific training sessions until the Apprentices are at the level where they can be left to complete the service by themselves with advice at the beginning and a final check at the end.
Model times and prices
Styling- Mondays 4-6pm
Blowdry £5
Hair cut £15
Junior stylist Hair cut £25 mon-friday 9-3
Colour- Tuesdays 9-2
Tint £30
T- Section Highlights £30
Half Head  Highlights £35
Full head  Highlights £60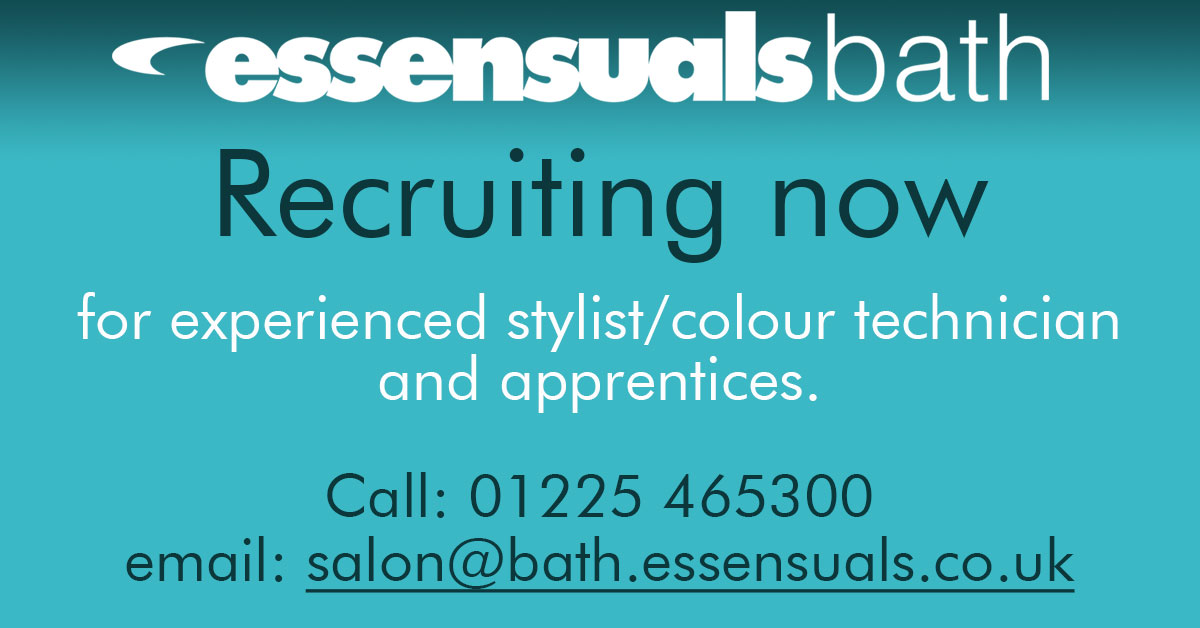 Essensuals Bath is recruiting now for experienced stylist /colour technician and apprentices.
Call 01225 465300 email salon@bath.essensuals.co.uk

Recommend a Friend & Both of you receive 20% off.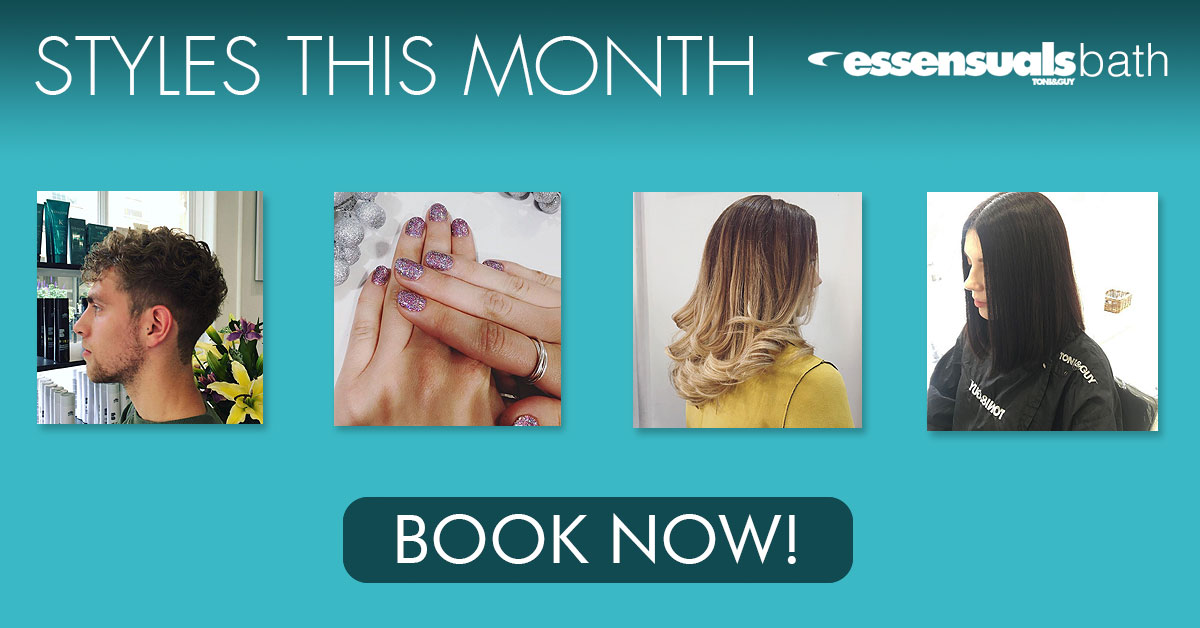 Every Month Essensuals Bath create new and exciting hair styles for you to try.
Click here to book your appointment and your new look.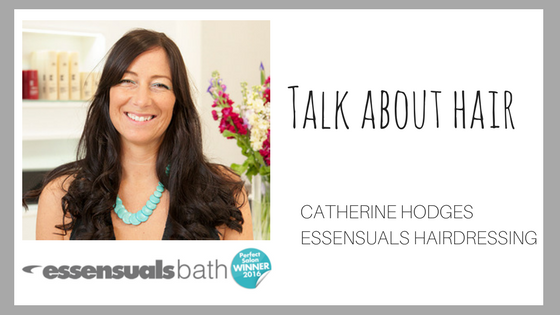 Do you feel like you are always in a loosing battle with your fringe? Cutting, growing, home snipping and regretting Sound familiar?
Fringes can lengthen, shorten, widen or narrow a face so getting that focal point perfect is arguably the most important part of any style.
When it comes to styling, where do you start? After shampooing, the bonds in the hair are ready to be trained into place, the minute the hair begins to dry in its own direction the fight is on!
These tip should help…
How to create a smooth fringe
Step 1 – Start by putting in your parting; comb your fringe area down towards your face thus getting rid of he parting in the fringe area.
Step 2 – Using a powerful dryer whilst combing your fringe towards your face, keep blasting and combing, when almost dry comb and blast from left to right, right to left.
Step 3 – With a nozzle on the hairdryer, use a round brush under the fringe and follow he hair downwards towards the face.
The shorter the fringe, the smaller the brush! If you have a full fringe this should achieve a nice smooth look without a parting, if you wear your fringe longer, simply push to the side, this will have a nice sweeping effect for a smooth fringe but not stuck down! Applying Oil and a blow-dry spray will help.
How to create a volumous fringe
Step 1 – Start by putting in your parting; comb your fringe area down towards your face thus getting rid of he parting in the fringe area.
Step 2 – Using a nozzle on the hairdryer, place a round brush under the fringe and lift straight up whilst turning the brush, it may sound tricky but after a little practice it will become much easier.
Step 3 – Keep lifting and turning until the hair is dry and pull the brush out in the opposite direction from the side its worn, this creates a nice sweep, lift and volume.
Applying a volume mousse to roots will help! Finish with a touch of lightweight spray and enjoy the day !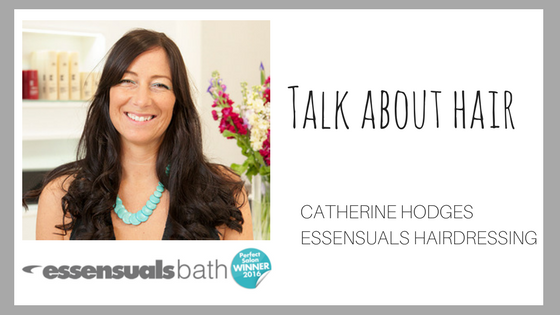 What is the first thing you say when you meet a hairstylist out of the salon environment. For hair stylists it's a part of everyday life when you meet someone for the first time, in any social gathering it's a guaranteed question 'What would you do with my hair'?
Tell me about your hair? What do you like? What's not working ? How would you like it to look? These are some of the questions hair stylists should be asking ………
The truth is, as in modern fashion, almost anything goes' a pair of Brogues with a Primark top, there are no hard rules anymore! A mash of clothes from our wardrobes soon turn into a new look, the more individual the better. The same could be said for the style of our hair and how it's worn. A quirky cut with professional colour can see home styling, peek-a-boo braids or simple ponies look stylish.
A great haircut can look like a very bad haircut if cut it on the wrong hair type or could even expose your least favourite features… however, when you see a new style you'd like to try, let your stylist know what you like about it. Maybe the colour, the texture or the shape, The style can usually be adapted to suit you. Of course a few general rules still apply, Bob's can make a round face look fuller, but to answer the question What would you do with my hair? It's all about suitability.
Lengths, fringes, styles and colours can all be adapted to create the right shape for you so use pictures for part ideas and inspiration, not necessarily for generic copy.
Fringes can lengthen or shorten the appearance of face length so choosing and maintaining the perfect length could be your style breaker!
There are many different layering patterns, which create or reduce volume. Volume is most certainty not the same as thickness so less is often more where layering is concerned! Bear this in mind before asking for lots of layers.
Short-cropped styles are more complimentary on a petite face but can be easily adapted with a softer perimeter, asymmetry or partially maintained length.
Every haircut will be best complemented with a great colour, this could be your own natural colour especially if you are lucky enough to have the silver look which is big right now and is timeless anyway when on healthy shiny hair! Long-standing client of mine ' Susan' has this splendour of silver and I always encourage her to keep it natural. However, for the most part the pictures of styles you see out there will all be coloured.
Don't be afraid of colour, colour can add shine and vibrancy to your hair, many techniques, products and introductions mean the choice of non committal colour along with superbly healthy and thicker hair! All of this can be achieved with the correct advice. It feels good when you love your hair !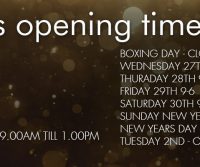 Monday 18th 9-7
Tuesday 19th 9-7
Wednesday 20th 9-7
Thursday 21st 9-8
Friday 22nd 9-5
Saturday 23rd 8-6
Sunday – Christmas Eve – 9.00am till 1.00pm
Christmas Day – Closed
Boxing Day – Closed
Wednesday 27th 9-7
Thuraday 28th 9-7
Friday 29th 9-6
Saturday 30th 9-7
Sunday New Years Eve- 9.00am till 2.00pm
New Years day – Closed
Tuesday 2nd – open as usual