Welcome to the Essensuals Bath April update 2017
Thank you for your continued support. We are approaching our 16th birthday at the end of this month and the salon is busier than ever.
Service of the month !
Brand NEW COUTURE nail polish service
This is a brand new product, a nail polish that lasts like a gel (4 weeks) but is applied like a standard polish and no need to Soak off!
This service with a full manicure is on offer this month for £20.
Salon News
All of the stylists are engaged in our ongoing Toni&Guy education programme in the salon, and in our London academy. We keep up to date and continuously improve skills & knowledge with the latest trends and anything Hair, beauty & fashion related.
Our assistants are often in need of models to perfect their technique. This month we will be showing some of the creative education we do in readiness for national Apprenticeship week.
If you would like to be a hair model, the training evenings are Mondays and Tuesdays and booking is essential.
You can read our blog on our website about our Apprenticeship programme and education within the company.
Team News
Tom Banfield is now one of our fantastic hair stylists and his clientele is building fast. Tom presented a presentation of his work to the team in order to gain his promotion to senior stylist.
http://www.essensualsbath.com/the-team/
Student VIP
!! Valid for students and teenagers !!
We have a new VIP membership for students. Pick up your student card in salon to enjoy the best prices.
* Student discounts are only valid for full time and upon presentation of NUS card
Mon- fri only please.
Beauty Bar
Lauren is now running our beauty bar on the first floor where you are now able to tie in your nail & eyebrow appointments with your hair.
We use professional polish brands such as OPI, ESSIE & GELISH and the LATEST TREND which is Essie @ OPI Couture polish which lasts like a gel but applied like a polish.
Some of our prices:
Express manicure £10
Manicure £25
Gel nails £35
Eye brow wax £12
Eye brow Tint £12
Eyelash tint £12
Complete package £30 (includes all the above)
Facial waxing also available.
Hair services & treatments
We love you to love your hair and for your hair to always look its best. Here are the hair treatments we have available in the salon:
Olaplex
You may have heard of this revolutionary product which has become very popular indeed. Olaplex is a bond multiplier which is either mixed into your colour or applied as a separate service. Repairing the disulphide bonds enabling you to achieve better colour results whilst improving the condition of your hair. The bonds Olaplex repairs are different from those in deep conditioning treatments. This service is priced at £25 with your colour or £50 as a separate service. Please ask your stylist for more information. Olaplex will benefit almost everyone's hair.
 Nano keratin smoothing treatment
Do you have frizzy of difficult to manage Hair ?
This Brazilian blowdry treatment helps to pack the hair shaft out with tiny keratin molecules to help your hair style smoother for 4 months.
£105.
HAIRSPA
The best way to keep good conditioned hair is to regularly replenish your hair with the protein & moisture it loses from every day styling and environment.
Hair spa deep conditioning treatments are our most popular service.
You can choose from our deep treatment from loreal & Kerastase prescriptive to your hair needs.
If you simply want that extra shine on your hair, the relaxing treatments are for everyone. All treatments include a relaxing head massage and luxurious hot towel wrap.
Rewards card
We hope you are enjoying our new rewards card. If you have not started yours, please sign up next time you're in the salon. Every time you visit us you build points to redeem against services & products.
We will add 500 pts = £5 on your birthday plus have lots of other great bonus builders and ways to save you money.
Quick reminder of our opening times
Monday 9-7
Tuesday 9-7
Wednesday 9-7
Thursday 9-8
Friday 9-6
Saturday 8-6
Sunday 10-5
We are also open on bank holidays.
Link to this post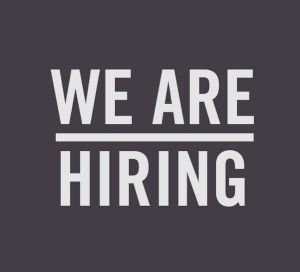 School leavers – Start an apprenticeship at Essensuals Bath assisting stylists and looking after clients while following the NVQ LEVEL 2 and 3 in hairdressing along side our 'in house' Essensuals and Toni&Guy worldwide renowned training. Earn good rates of pay while following this 2 year course. At the end of which you would attend a 6 weeks final exam course at the Essensuals/Toni&Guy academy in London.
On completion of this course you would receive a Toni&Guy diploma and start building your career as a stylist or colour technician.
With an already good understanding of hairdressing you could adapt your skills in the salon for varying lengths of time from 1 month upwards (depending on experience) before attending the academy for 6 weeks to complete the Essensuals and Toni&guy training.
Please drop your cv at reception or call 01225 465300 for more info!
Stylist and Technician Dannielle Evans will be back from Maternity leave to work Sundays throughout December…
Her working days are…
22nd November
6th Decemeber
13th December
20th Decemeber
If you would like to book an appointment with her then call 01225465300. We look forward to welcoming her back!
We are searching for outstanding enthusiastic team members who can deliver an outstanding service and make a difference.
Recruiting now for Saturday staff and full time assistants wishing to undergo a hairdressing apprenticeship.
The apprenticeship includes assisting our stylists and joining the team to help look after our clients and deliver a fantastic salon service.
You will undergo a 3 year NVQ LEVEL 5 course as well as Toni&Guy training before qualifying as a stylist.
Check out our Blow dry Menu…
Appointments still available for today- Call 01225 465300
Don't forget Essensuals Bath is open Sundays 11am – 5pm!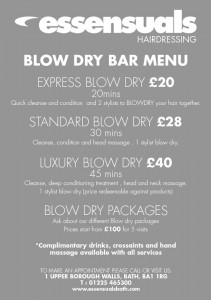 Essensuals Bath crowned 'WINNERS of The perfect salon 2015'
We polished up our dancing shoes ready for this years Toni&Guy Mainstage – a truly epic evening of hair, fashion, music and celebration. The celebrations kicked off with an a
wards ceremony honouring stylists & Salons for their achievements over the past year.
We were crowned winners of the perfect salon 2015, this prestigious award is a great achievement and we would like to thank all our clients for their support.
Salon Owner Catherine Hodges and the rest of the Essensuals art team spent the day styling the hair for The new Essensuals collection ready to present on the 50-foot catwalk.WINNERS of The perfect salon 2015′
*PROM SEASON*
If there's one time of year to have a standout hairstyle, it's the holidays and with Prom season coming, now is the time to get thinking! We love the idea of getting glam for a special occasion.
Essensuals Bath has a number of hair up specialists that can help you create the perfect style for your occasion. View our 'Hair up' Album to see more pictures!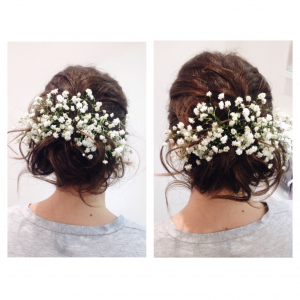 ESSENSUALS BATH LOVE'S A SELFIE…
Have you recently visited our salon? And want to show off your new hairstyle, Take a photo and Tag us on instagram, Facebook or even Twitter!!
We LOVE hearing from you!!