Check out our Blow dry Menu…
Appointments still available for today- Call 01225 465300
Don't forget Essensuals Bath is open Sundays 11am – 5pm!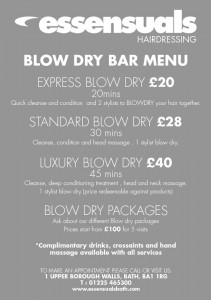 Essensuals Bath crowned 'WINNERS of The perfect salon 2015'
We polished up our dancing shoes ready for this years Toni&Guy Mainstage – a truly epic evening of hair, fashion, music and celebration. The celebrations kicked off with an a
wards ceremony honouring stylists & Salons for their achievements over the past year.
We were crowned winners of the perfect salon 2015, this prestigious award is a great achievement and we would like to thank all our clients for their support.
Salon Owner Catherine Hodges and the rest of the Essensuals art team spent the day styling the hair for The new Essensuals collection ready to present on the 50-foot catwalk.WINNERS of The perfect salon 2015′
*PROM SEASON*
If there's one time of year to have a standout hairstyle, it's the holidays and with Prom season coming, now is the time to get thinking! We love the idea of getting glam for a special occasion.
Essensuals Bath has a number of hair up specialists that can help you create the perfect style for your occasion. View our 'Hair up' Album to see more pictures!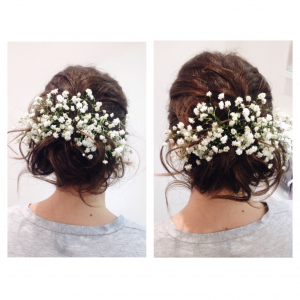 ESSENSUALS BATH LOVE'S A SELFIE…
Have you recently visited our salon? And want to show off your new hairstyle, Take a photo and Tag us on instagram, Facebook or even Twitter!!
We LOVE hearing from you!!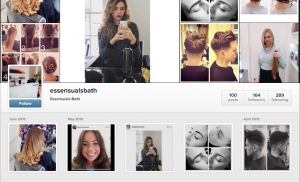 Eyebrow and Eyelash services now available with Danni…
Eyebrow wax £12
Eyebrow tint £10
Eyelash tint £15
Complete package £30
Just book when you call or just ask whilst in salon- No hair appointment necessary 01225 465300!
*Skin Test required 24 hours before for tint*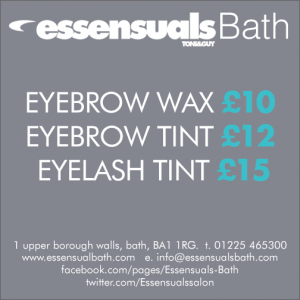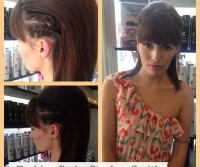 GOING OUT THIS WEEKEND?
Get fashion-forward styles in only 30 minutes…
The Fashion Fix menu usually comprises of three catwalk-led looks, but as TONI&GUY is celebrating a whopping ten years of being an official sponsor of London Fashion Week, we have extended the menu to cover TEN hairstyles. Ten years, ten looks.
Why the heck not?
Here Stephen created the 'Pretty in punk' What do you think? Whats your fav look?
CALL 01225 465300 TO MAKE YOUR APPOINTMENTS!!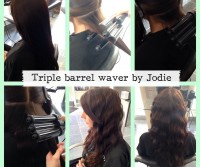 We have been creating mermaid locks this morning using Label.m UK 's Triple Barrel Waver. It's designed to create soft & natural salon perfect waves every time. A step by step guide on 'How to create the perfect wave' will be uploaded in our 'Step by Step workshop album'.
What do you think of these gorgeous waves?
Triple Barrel Waver £59.95 essensualsbath.com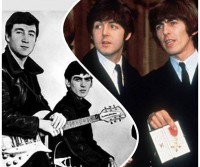 Looking back at The Beatles "Mop-top"
The iconic cut of the 60's, however the Liverpool lads didn't start off with their famous mop-tops, in fact they first attempted the slicked back, greased up Elvis quiff! But after a significant trip to Hamburg, the brushed forward, 'mushroom mop' was born! Now the fluffy bangs are starting to re-emerge with brave trend-setters thumbing through the 2nd hard record stores, we've seen you!
www.essensualsbath.com
If you could take the time to follow us on Twitter we would be VERY grateful as we are ONLY 3 AWAY FROM 500!!
We are always looking to improve our services so please contact us with any feedback ideas you may have. We LOVE hearing from you!!
https://twitter.com/Essensualssalon

Essensuals Bath (Essensualssalon) on Twitter
twitter.com
The latest from Essensuals Bath (@Essensualssalon). Essensuals Bath hair salon 01225 465300 Salon@bath.essensuals.co.uk . Bath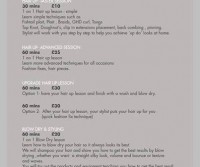 No more bad hair days.. Not with our hair up styling lessons anyway. Check out our menu, prices start from just £10!!
To make any appointments call 01225 465300 www.essensualsbath.com